Play It With Moxie Live!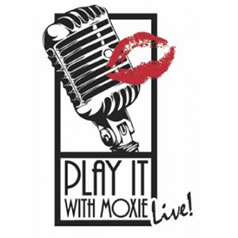 Released December, 2011.
Play It With Moxie – Live! is available on CD and digital download. Find us on iTunes, Amazon, CD Baby, Bandcamp and ReverbNation. You can also get CDs and T-Shirts from the band at our live shows.
The album was recorded live over several years at the GAFilk, the Georgia Filk Convention. The participants on this project were: Dr. Mary Crowell (piano, vocals, clarinets), Carly Gibson (guitar, vocals), Teresa Powell (vocals, upright bass, trumpet), Jodi Krangle (vocals), Amy McNally (violin), George Powell (upright bass, tenor sax), Andrew Powell (vocals, alto sax), Brian Richardson (drums, emcee), and David Rood (trumpet). Engineered, mixed and mastered by Greg Robert. Producers: David Rood and Greg Robert. Executive Producers: Drs. Mary and Wesley Crowell.
Tracks:
It Ain't Right
Pomegranate Tango
Twisted
Bad Things
Trust In Me
Miss Celie's Blues
Put A Lid On It
Alien Jellyfish Song
Skeletons In My Closet
Jabba's Good To You
Devil With the Devil
When Sunny Gets Blue
Stray Dog Strut
Fat Cat
Devil of Stories
Angel Eyes