Courting My Muse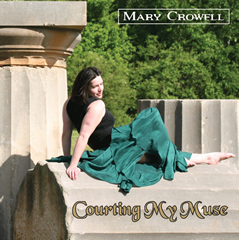 Released April, 2007.
Recorded at The Vault; produced by Mary Crowell and Greg Robert. Engineered, mixed and mastered by Greg Robert. All songs written by Mary Crowell.*
Piano and vocals: Mary Crowell. Drums: Brian Richardson. Trumpet: David Rood. Bass: George Powell. Special thanks to Dominic DeSantis for the use of his basement.
Tracks:
*Bad Man Go Good written by Mary Crowell and Karen Murphy.
Additional links for this album:
News - Reviews - Buy - CD Journal