Hello Folks out in Internet-Land!
I hope everyone had a happy and safe Memorial Day weekend! Right now, I am maintaining–okay. I am attempting to maintain communications on five or six blogs: this blog, my live journal, my Patreon, my Tumblr, Google+ (that one is half-hearted and occasional), and of course my Kickstarter Updates. And somehow I managed to write a song yesterday, and brain storm another one. So I'm keeping the creativity going throughout this journey. Today's theme is 'Where is Mary in the blogosphere?'
Local Gig at Athens-Limestone Public Library
Saturday, June 4, 2016 from 10:00 am to 12:00 pm I will be performing at the 2nd Annual Catfish Literary Festival. This event will held from 10:00 am to 3:00 pm at the Athens-Limestone Public Library.
Over 25 authors and publishers from North Alabama will be in attendance. Planned panel discussions include how to get published, writing for children and teens, writing non-fiction, and more. Authors will have copies of their books for sale and they will be available for questions. There is no entrance fee for the public.
I will have some small versions of the Persephone bookmarks with me to give out as Kickstarter reminders. (They are lovely little prototypes.)
Patreon
Patreon is where I post the leading edge of new projects: the newest song I've written and recorded; older songs that were written during times I didn't perform much and thus languished; fun videos that everyone can participate in; write weird midi tunes; and that sort of thing. I do a lot of earnest chatting with my patrons on my Patreon Page: asking them what kind of music they would like to hear and what is the next video they want to see.  If you want to be part of this and incidentally help support my newer compositions, please consider joining Patreon. (Several other artists you like are probably making things there!) This is the inner circle in the sense that I really try to write or improvise pieces my patrons have asked for. If they have a concern about the mix of a particular piece or the pronunciation of a lyric, I take it to heart and make those changes. [Yes, Brooke and Peter–i-CO-sahedron. I plan to fix it soon.]
If you want to be part of the love that is Patreon, go here: https://www.patreon.com/DrMaryCCrowell
The latest big thing my patrons and I are making is a video of 'M' is for Magic Missile. The optimistic deadline for footage was originally May 31st. I have extended it to June 30th. I'll be posting about it on Patreon after I finish this post to give more specifics about what video clips of wizards I need. If you purchased academic regalia and regretted the expense to wear ratio, here is your chance to let it strut its stuff once again. [Note: bathrobes work just fine as wizard robes though!]
Kickstarter for Scattering Seeds on the Pomegranate Tour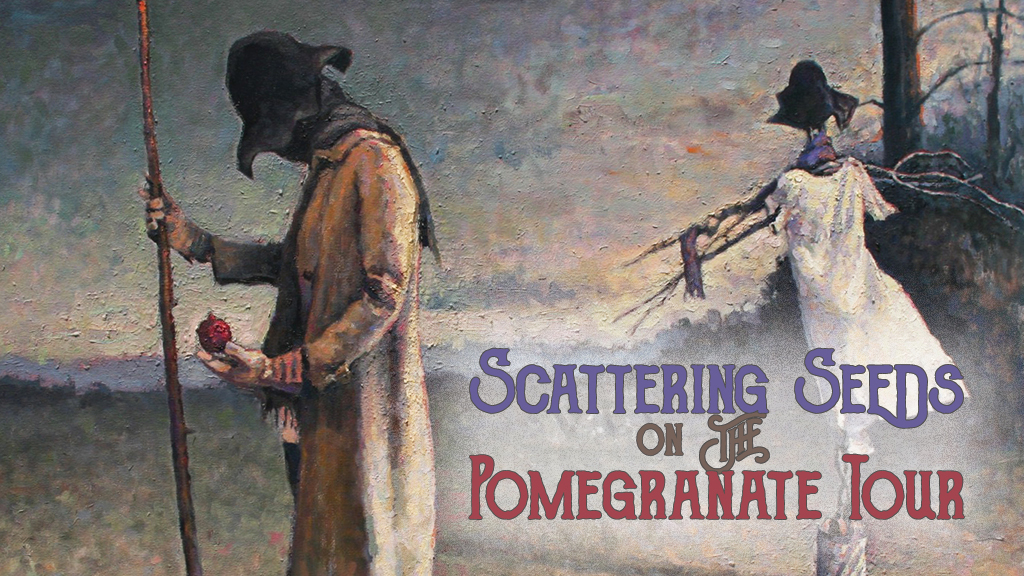 There are fourteen lovely songs with themes of  mythology, mortality, and coffee in a wide variety of styles. They are all very 'Mary-ish.' (How's that for an accurate musicology term?)  Once again I am recording at Mystic Fig Studio with many of the same artists that graced the recordings of Acolytes of the Machine & Other Gaming Stories. The Kickstarter is currently 36% funded which is a fine start. Please, be aware that no one gets any of the lovely things in the tiers unless it is 100% funded by June 26th 10:00 pm CST or thereabouts. Many generous people have contributed to this Kickstarter, proof read it and caught many errors (Any errors missed are completely my fault!), and offered excellent suggestions on tiers and shipping. I  have sent three updates so far. One evening I wrote private 'thank you' emails to each of my backers thus far and was overwhelmed with love and gratitude for the out pouring of generosity. I am still in awe. Thank you, loves. I have plans for what to do if this Kickstarter doesn't make it. But I sure hope it does!
PLEASE, SHARE THE HECK OUT OF THIS KICKSTARTER. Facebook throttles outside links, and Twitter is a constant flow. This means that you may have already shared it several times, and few people saw it. If any of you interested in this project have a newsletter in which the Kickstarter would be an appropriate paragraph, please consider adding it to your newsletter. Please blog if you do such things. (And send me a link so I can thank you and reblog.)
Info from Kickstarter Update 3
First, before she went out of town for a few days, Starr Weems shared some pictures of the latest Peppermint Lady Bookmarks or mythic bookmarks. (I change the name of these constantly. Does anyone have a suggestion for a catchy title? They are so lovely!)
Bookmark Progress
Check out the spiders on Arachne's thread and her long tapered spider web sleeves. Torrey Stenmark is the costume designer for the mythic bookmarks and chose to model them on several filkers she knows. I love her ideas so much, that I wanted to have them made into these bookmarks. It works out beautifully that so many of the people depicted in the bookmarks are involved in the album itself. Delightfully self-referential.
Torrey has also appeared as Prince Zuko in my "Ain't No Rest for the Wicked" video on Patreon. She plans to be in this next M is for Magic Missile, and in fact was the one who suggested it as a great next video. Thanks, Torrey!
Sunnie Larsen as Ariadne. I love the key pendant and the maze elements both behind her and in the bodice of the dress! And her hair is still Sunnie's purple and blue. Sunnie performed as Bellatrix LeStrange in my "Ain't No Rest for the Wicked" video and has a picture in the "Runner Five" video.
Recording Progress
This weekend, Sunnie will be recording at Mystic Fig Studio. She will be very busy working on both my album and Char MacKay's. Yes, there is some excellent music coming out soon! I am really excited Char is doing an album—she is an exceptionally gifted songwriter! I hope to share a couple of snippets of songs with you after Sunnie is done, but I'll want to check in with Jeff first. He will have a whole lot of work to do mixing for both Char and me after this tracking gets done.
Love,
Mary
Chapbook Progress
Chapbook is an inexact term. It can be anything from a small folded pamphlet, to a paper covered booklet, to an actual small book with hard covers. And that last description is the one Wesley (my husband) was interested in making for this Kickstarter. He started researching, and he made a bookpress. Wesley sent me an update, and I have included it below.
Progress on the chapbooks breaks down as follows at this point:
1) Research – having only coil bound books before, I have read three excellent references, including Pauline Johnson's Creative Bookbinding, which is an older reference from 1963. The YouTube videos of Crafty Loops and DiRester were also very helpful.
2) Materials (Codex) – I have zeroed in on most of the final materials at this point, having run several tests. Since the book is printed on landscape oriented 8.5″ x 11" paper there where two main concerns: A) The paper grain; B) Opacity and readability. Grain was the more difficult hurdle. Regular sized paper is almost exclusively long grain, which means it cannot be folded in half (in landscape) without folding AGAINST the grain. This is a big no-no for the book to fall open and fan correctly when bound. In short, it is important enough that I am cutting down International Paper's Smooth Finish long grain 11″ x 17″ paper (80 lbs. Text / 118 gsm / 32 lbs. Bond) in half to create two 8.5″ x 11″ SHORT grain papers that are opaque enough for good readability. This paper is gorgeous and it is making me (more of) a paper snob. I'll include various other material discussion in future updates. After testing both methods, individually folding and creasing each page before forming signatures of three sheets (six pages) works far better for the final codex than folding the three sheets all at once and then creasing with a bone folder.
3) Materials (Cover) – The books will be quarter bound with a thick Pomegranate wallpaper over the spine with a cream colored heavy bond parchment for the color cover image. The whole thing is wrapped over Lineco Binder's Boards since the cheaper heavy chipboards warped too much. I thought the overnight press would fix the chipboards since they are dirt cheap and come in very convenient sizes, but alas I have had to upgrade to the archival binder's boards. A picture is worth a thousand words here.
4) Practice – I have several practice projects going so that I can try different techniques. The kettle stitches on the collection of signatures ("the codex") is working well and I have my sewing techniques finalized. The gluing of the spine, applying the head and tailbands, and printing of the color end papers is also well understood at this point. Assembling the final book once all of these pieces are finished is . . . well let's just say some of them go well and others are good practice. The final books well definitely be the ones that turn out well. I am getting better. Luckily, the 3-1 PVA Glue-to-water mix cleans up easy.
5) Current Work – I am excited to try a few new techniques on this next round of binding. The power sander trick on the page edges (to give a feathered look) is up next. I am also going to get rid of the linen binder's tapes that run under the full stitches and try using a muslin "super" over the spine of the codex. The next end papers will be folded into the creases of the spine prior to final gluing. More later.
-Wesley Crowell
And that is enough update for today I think! So much love to you all.
Mary Crowell